19.02.2021
GLOW MAGAZINE & GLOW.GR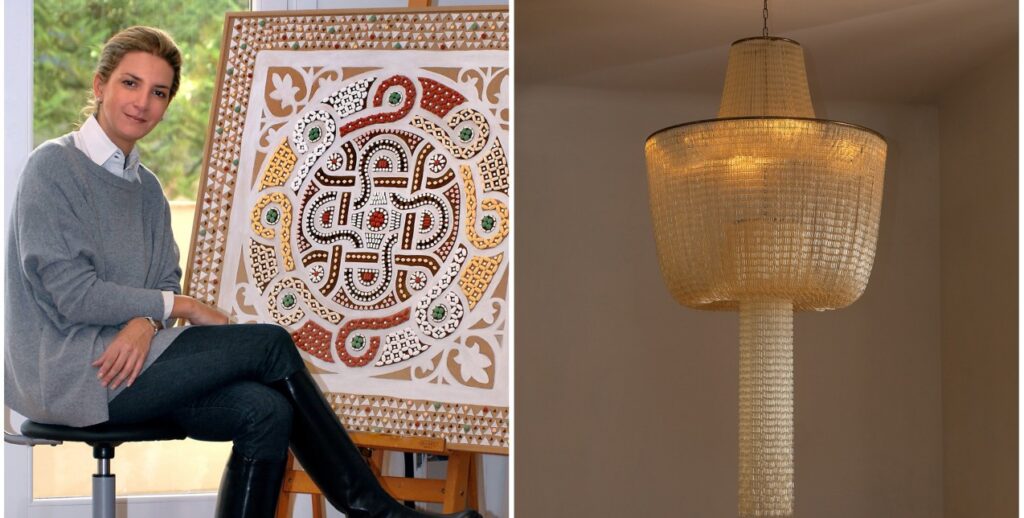 The Talks:
With the visual artist
Peggy
Kliafa
Talking
about
her
course
on
the
subject
of
medicines
,
the
healing
of
the soul and the body
On the occasion of her participation in the virtual exhibition which takes place at CUNY of New York, entitled "The Right to Silence?", the visual artist Peggy Kliafa talks about her unique relation with art and her very own artistic path.A starting point in the arts field could have been her admission in the Athens School of Fine Arts in 2005, although she generally considers one's course as a composition of many facts and influences, which shape a personality, therefore there are several starting point
Talk to us about your course, how did it all start, how did it develop…
In the past I had studied Business Administration and Marketing and I had worked as a marketing manager for a few years. It was something I did with consistency but not with passion. Therefore, in 2004 I decided to move towardswhat I always loved but had never dared to try. My years of studies were very demanding but what I learned was veryinteresting. In my degree show I had already presented artworks on the subject of medicine, the healing of the soul and the body.
After my graduation one thing led to another, with a lot of work and persistence. I started with participating in a number of group exhibitions. In 2013 I had my first solo show in Kappatos Gallery in Athens entitled "Pharmakon" and in 2016 my second solo show in Lola Nikolaou Gallery in Thessaloniki entitled "Placebo". In 2017 I participated ina 3-person exhibition in Averoff Museum in Metsovo (M. Katzourakis, P. Kliafa, V. Gerodimos) and in 2019 in a 3-person show in Lola Nikolaou gallery (G. Lappas, A. Liti, P. Kliafa).
Meanwhile, I participated in many group exhibitions in Greece and abroad and a number of artworks of mine havebeen acquired by important private and public collections (museums) in Greece as well as by Foundations and private collections abroad.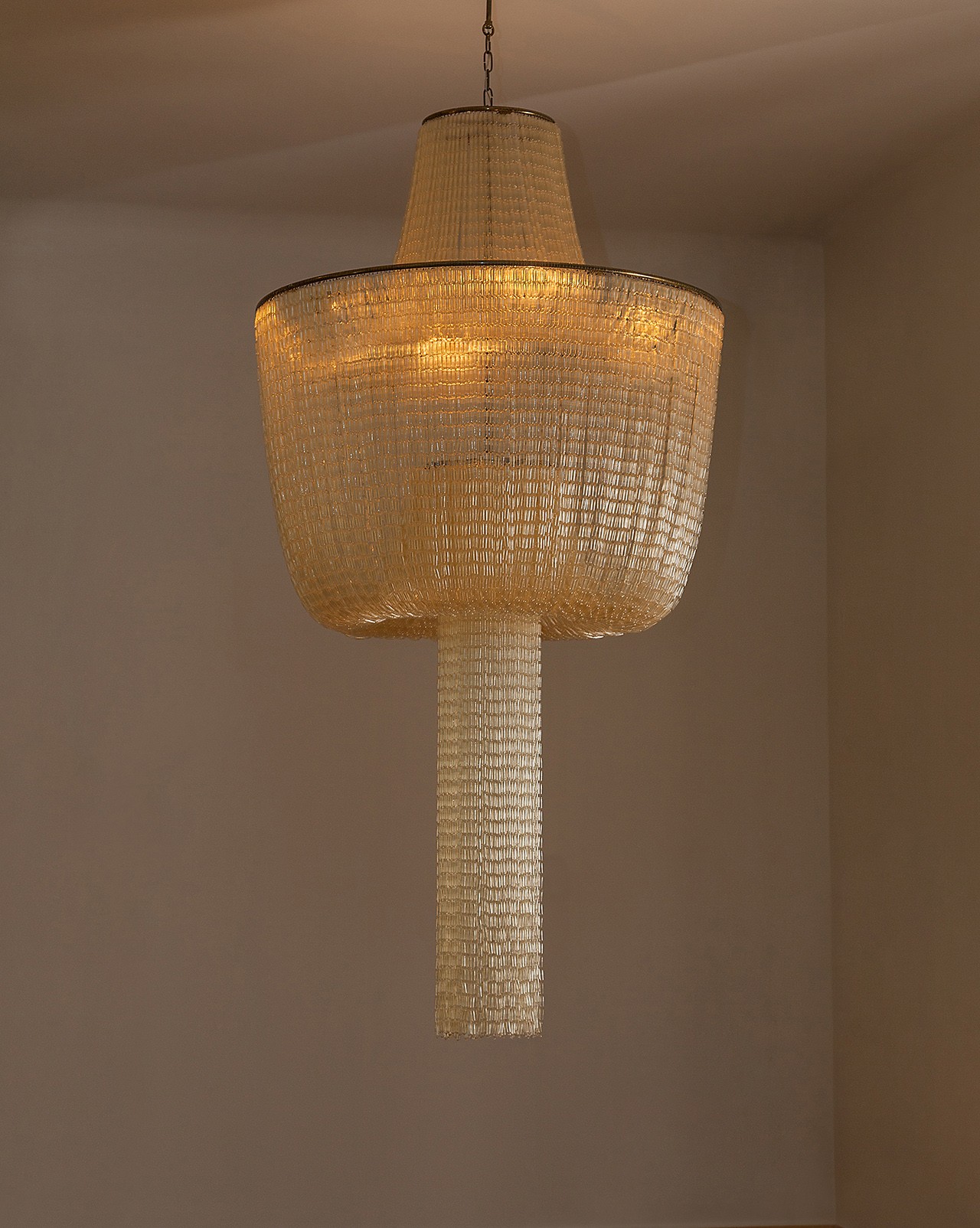 Chandelier ΙΙ
Your artworks' distinctiveness makes them immediately recognizable. How do you achieve this, how did the series of pills and blisters occur and how did it develop into big size artworks?
I realize that my artworks are recognizable from the way that the viewer perceives them and the comments I receive, which is a totally subconscious process. The artwork projects the artist's internal world, concerning either the subject or the aesthetics and the forms.
My interest in the subject of "medicines" and their forms derived from various and enduring reflections. Medicines'charm and ambiguity ("both remedy and poison" according to Derrida) as well as some other thoughts drove meinitially to the depiction of pills that I had found in magazine advertisments, when I was in the third year of my studies in the Athens School of Fine Arts. I gradually moved towards real pills, blisters, printed instruction leaflets etc.
Medicines offer me their rich history and various aspects, as well as their corporeality, polychromy, abundance of shapes and sizes. Their packaging is equally fascinating in my eyes. I use medicines in the same way that somebody else would use pigments, clay or any other traditional artistic medium. In my mosaics, pills become tiles and give colour, in my chandeliers, capsules become small transparent crystals, in my stained-glass panels, blisters transform into perforated glasses penetrated by a mystic light and in my abstract metal artworks, textured elements play with light and shadows.
Since my first exhibition, which was actually my degree show at the Athens School of Fine Arts, I was prone to create large-scale artworks: installations with big stained-glass windows, assemblages and wallpapers. I am getting really excited by large-scale pieces of art as well as by Immersive Art. I am also interested in the feeling of pronounced corporeality and repetition which derive from the large amount of blisters or pills needed for the creation of an artwork. Those pieces take on different meanings related to ooverconsumption, recycling and a need for reflecting on the matter.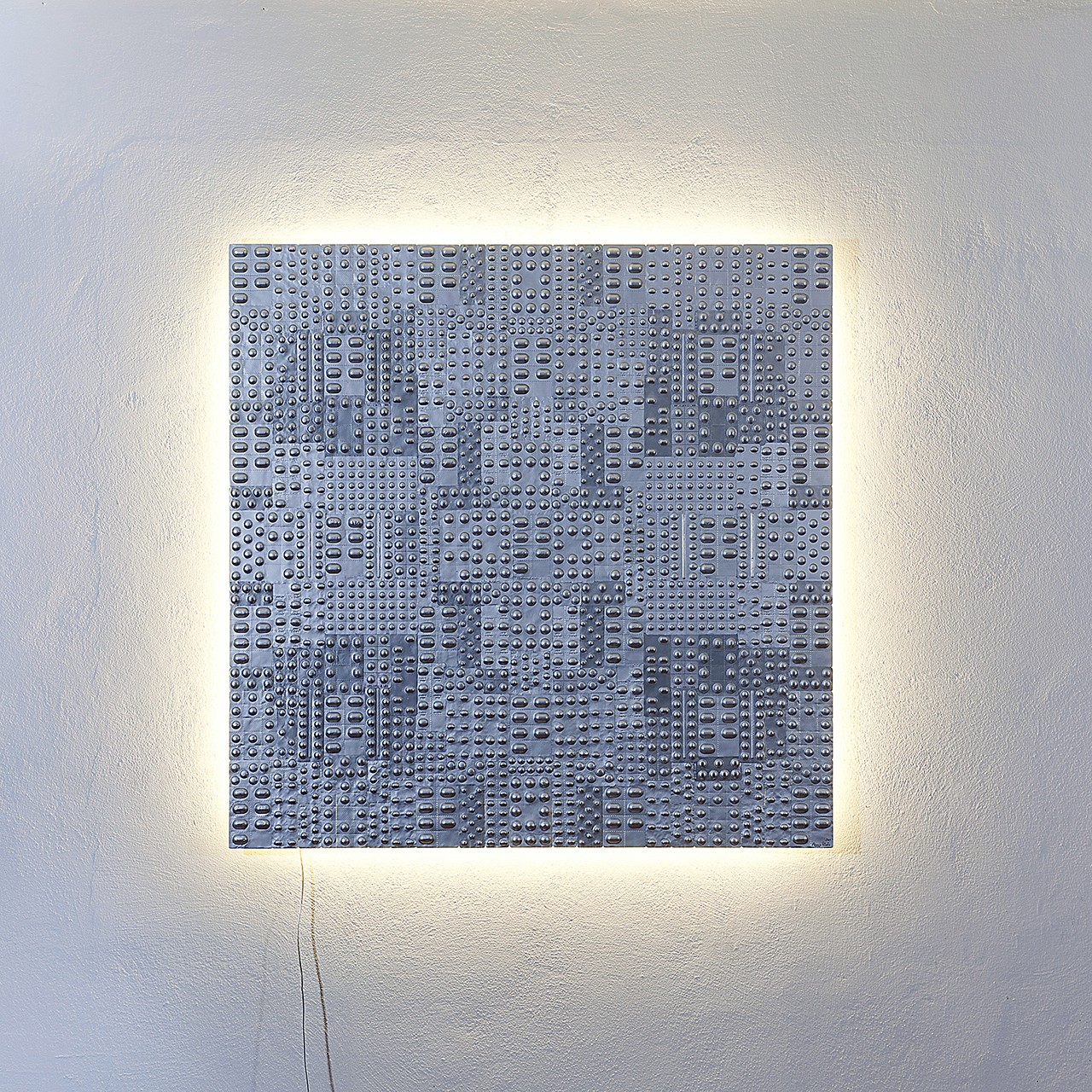 Armory Square
You have also created public / "land" art artworks, which are in dialogue with nature. Tell us about this experience of yours.
In 2017 I was called by the Averoff Gallery of Metsovo, specifically by the exhibition's and the National Gallery's curator, Dr. Lina Tsikouta-Deimezi, to propose a large sculpture/installation to be placed on the Gallery's vineyards alongside other sculptures. The requested site specific artwork had to be connected with the place and the theme: Fear, Vision, Hope.
I thought about connecting the piece with religion which is related to the theme's elements, as well as to wine. Moreover, vine's deification, from Dionysus/Bacchus to Christianity, is well-known.
Μy remark that the vine and the grapes are often raised on the churches' altarpieces and they are generally part of their decoration drove me to imagine a sculpture/installation which would bring to mind an altarpiece. One that its vineyards were not artificial and embossed but real and visible around it or mirrored in its surface. However, the artwork's title "Templo" refers to a temple in general.
A minimal abstract construction with vertical, horizontal, diagonal lines and aluminium foils on its surface came out, a shape made of empty and filled spaces which brings to mind geometric abstract artworks (Mondrian). It is aesthetically interesting and connected with modernism and Τheosophy-Philosophy. Aluminium foils act as mirrors reflecting the vineyards, the light as well as the viewer's face. There is a clear association between the role of mirrors in Art History and philosophy, Plato, the encouragement of introspection and self-consciousness. Finally, the shape and the materials used in the construction refer to the huts found in that specific region and generally around Greece.
In 2020 I designed a large-scale artwork for the public space on the subject of recycling. This is a project curated by Maria Migadi on the collection-recycling of marine plastic waste (marine litter) which raises awareness about this extremely important matter. Through this artwork, the upcycling which forms an integral part of my work with medicines and their packaging is broadened to include other materials and products of everyday use. The process of transforming these "invisible" everyday objects into pieces of art is very interesting. I really hope that this project will take place during 2021.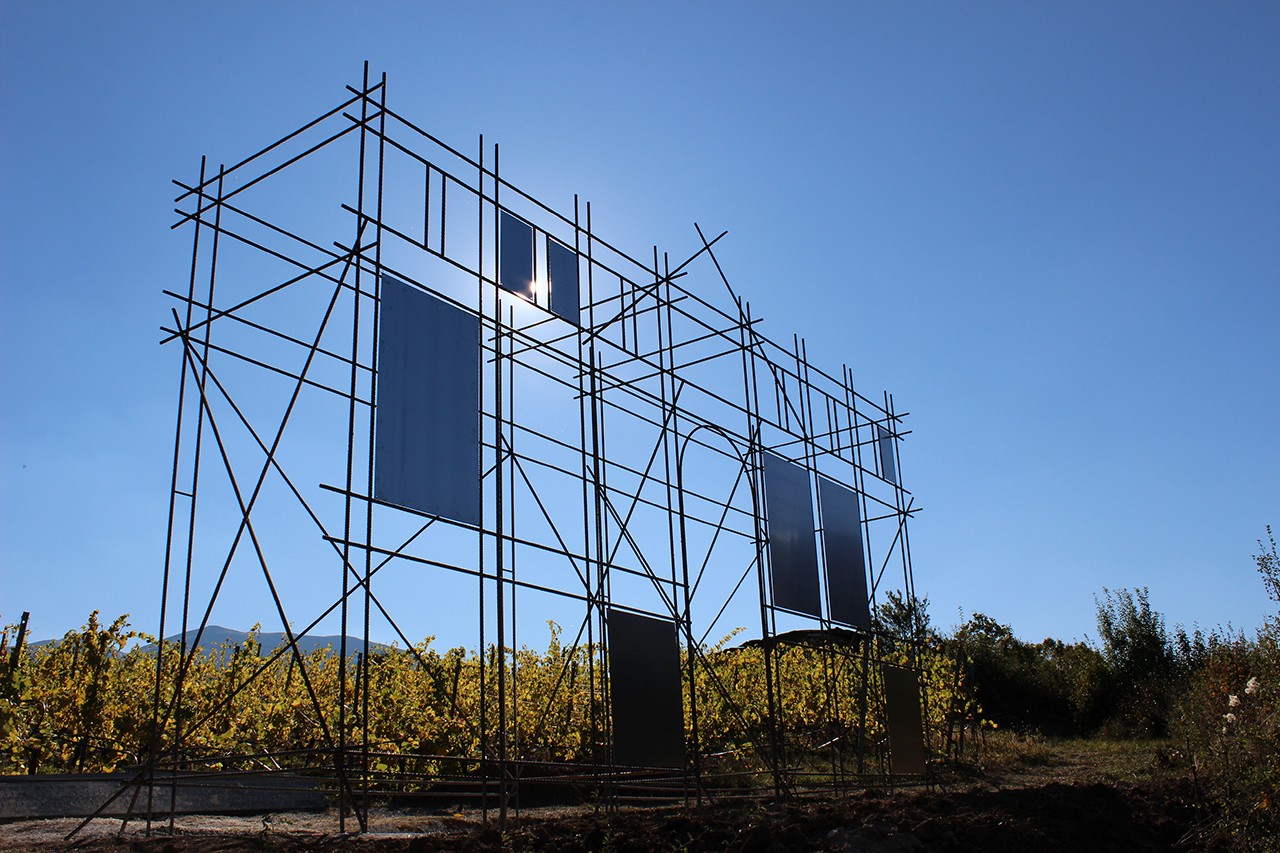 Templo
The artworks that make you feel really proud…
I will describe two of my favourite artworks which also happen to be very relevant:
The first one is the installation/sculpture called "BREATHING BOOTH and THE COST OF BREATHING" which had been exhibited during Documenta 14 at the National Museum of Contemporary Art in Athens in July 2017.
It was a utopian proposal to install "Breathing Booths" (resembling Telephone Booths) in town centers. My artwork was the realization of that booth where a person could enter, sit and breathe oxygen provided for free from a breathing machine and matching masks. The booth was also equipped with a venting machine/sculpture which distributed plastic masks and inhalers/transparent sculptures for the treatment of dyspnea and other breathing diseases from which a large part of the world population suffers.
Since the beginning of the pandemic I am receiving messages about how prophetic this artwork is. I was impressed by the immediate decision of the well-known collector Adrian Cheng to create Face Mask Vending Machines to distribute masks for free in Hong Kong. One cannot help but wonder about the "price" of breath (both literally and figuratively) witnessing the overconsumption of face masks, the failure to recycle them, the absolute need for breathing machines, the testing and consumption of so many medicines over the past year.
My second favorite artwork/installation had been exhibited in the 6th Thessaloniki Biennale of Contemporary Art entitled "Imagined Homes". It consists of 4 large stained-glass windows which resemble a cube with inner lighting.What distinguishes them is the replacement of traditional colored religious scenes of Gothic stained-glass by motifs made of transparent pills blisters which allow light penetration and reflection on surrounding walls. Here is an excerpt from the Biennale's catalogue:
"…used packages are transformed into impressive, elaborate compositions, thanks to the decisive intervention of artificial, pure and warm light, which passes through their transparent texture. The compositions define holy, transcendental spaces, where one can be isolated, connect to the remotest sides of oneself, and communicate with the divine…".
We are at a pivotal moment in history because of the pandemic which led to the idealization of medicines on both a personal and a global level.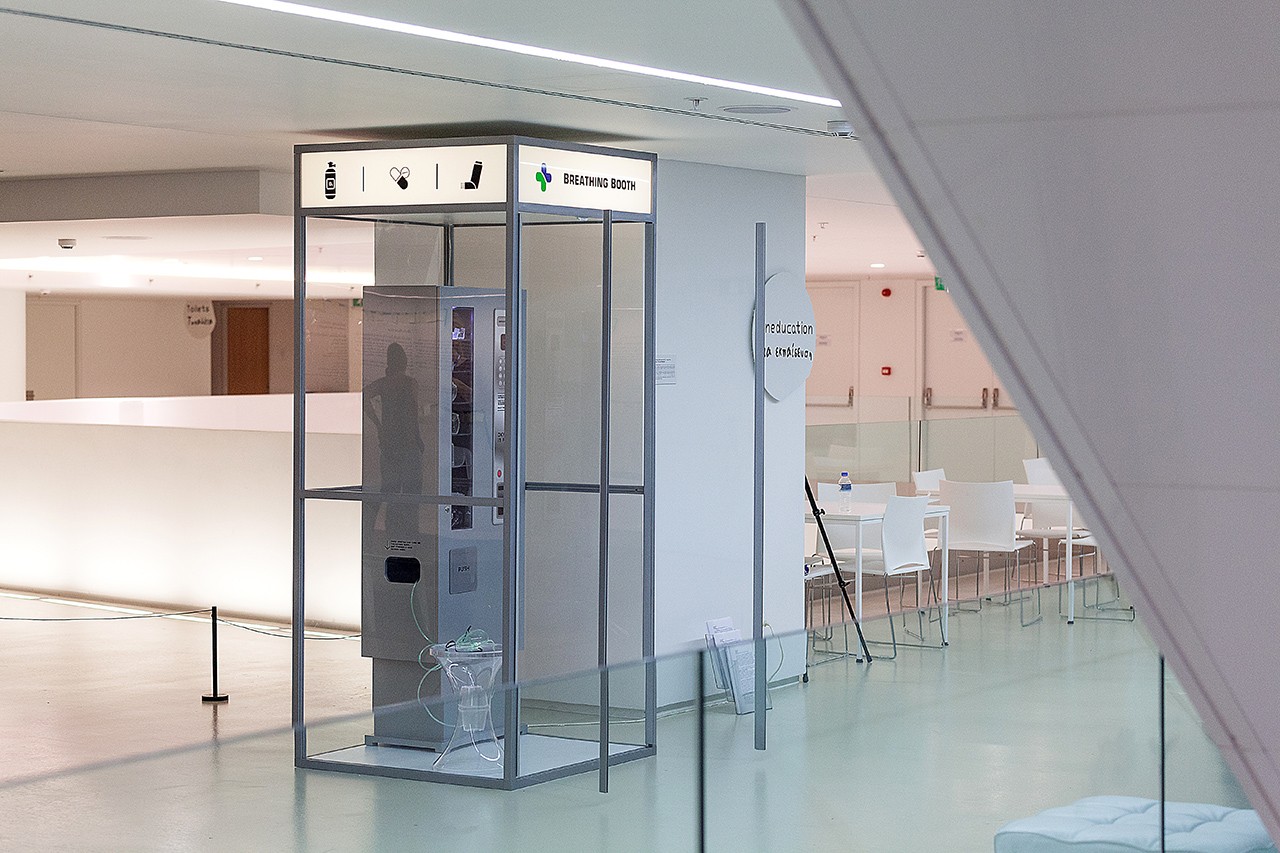 Breathing Booth – The cost of Breathing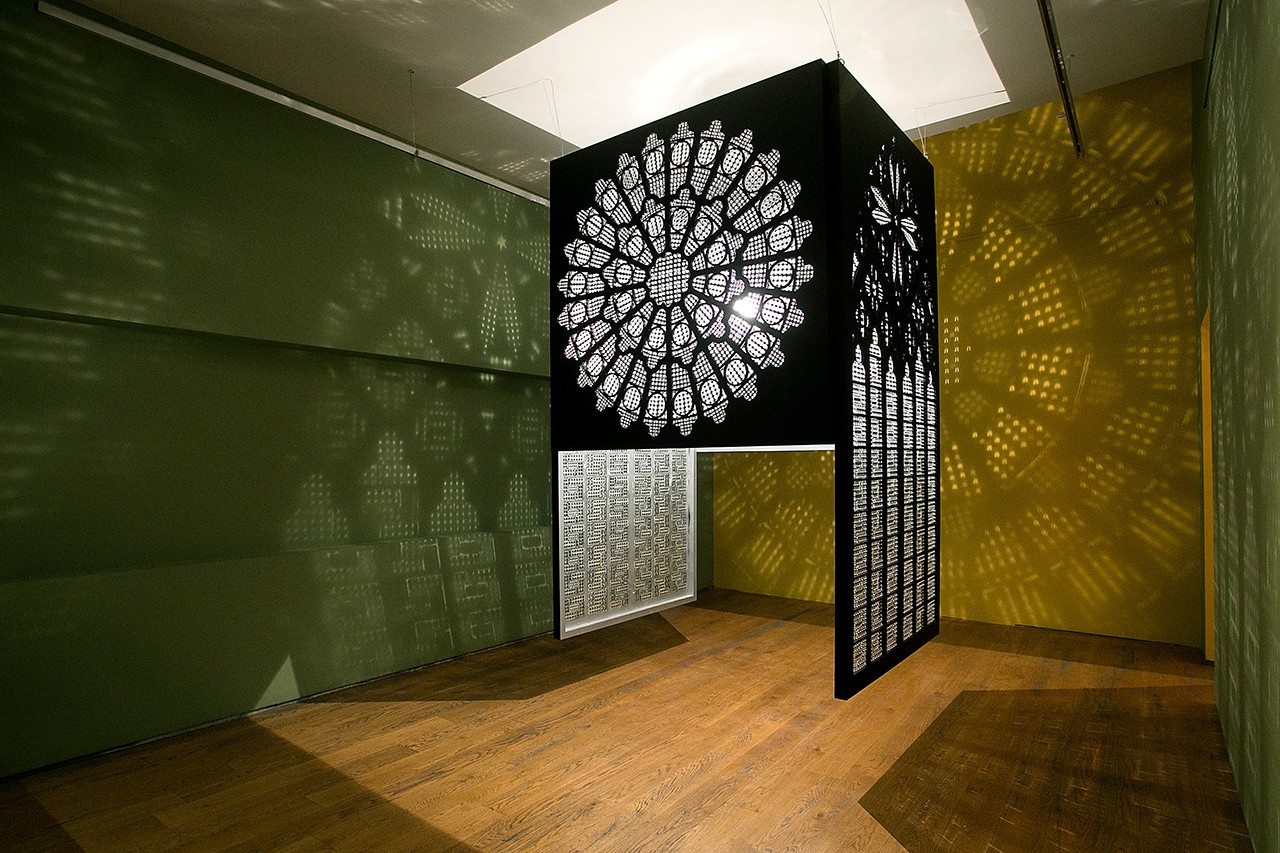 "Ιmagined Homes" 6th Thessaloniki Biennale of Contemporary Art
Are you interested in designing something wearable?
I have already designed some jewellery pieces and clothes. Artistic jewelry can be an extension of an artist's work and I am very interested in it. I have designed and created mainly bracelets using blisters from pharmaceutical packaging. Imagine a metallic blister made of silver or gold surrounding your wrist.
I have also designed a dress sewn with migraine medication blisters to be worn during a performance. Clothing, as a personal and social "armour", has also inspired me to create a series of artworks which look like dresses/armours consisted of medicine packaging and pills for the treatment of diseases that mostly affect women.
Finally, I think that my mosaics made of pills ("Omphalio", "Lace", "Pillow") could be printed on wearable silk scarves.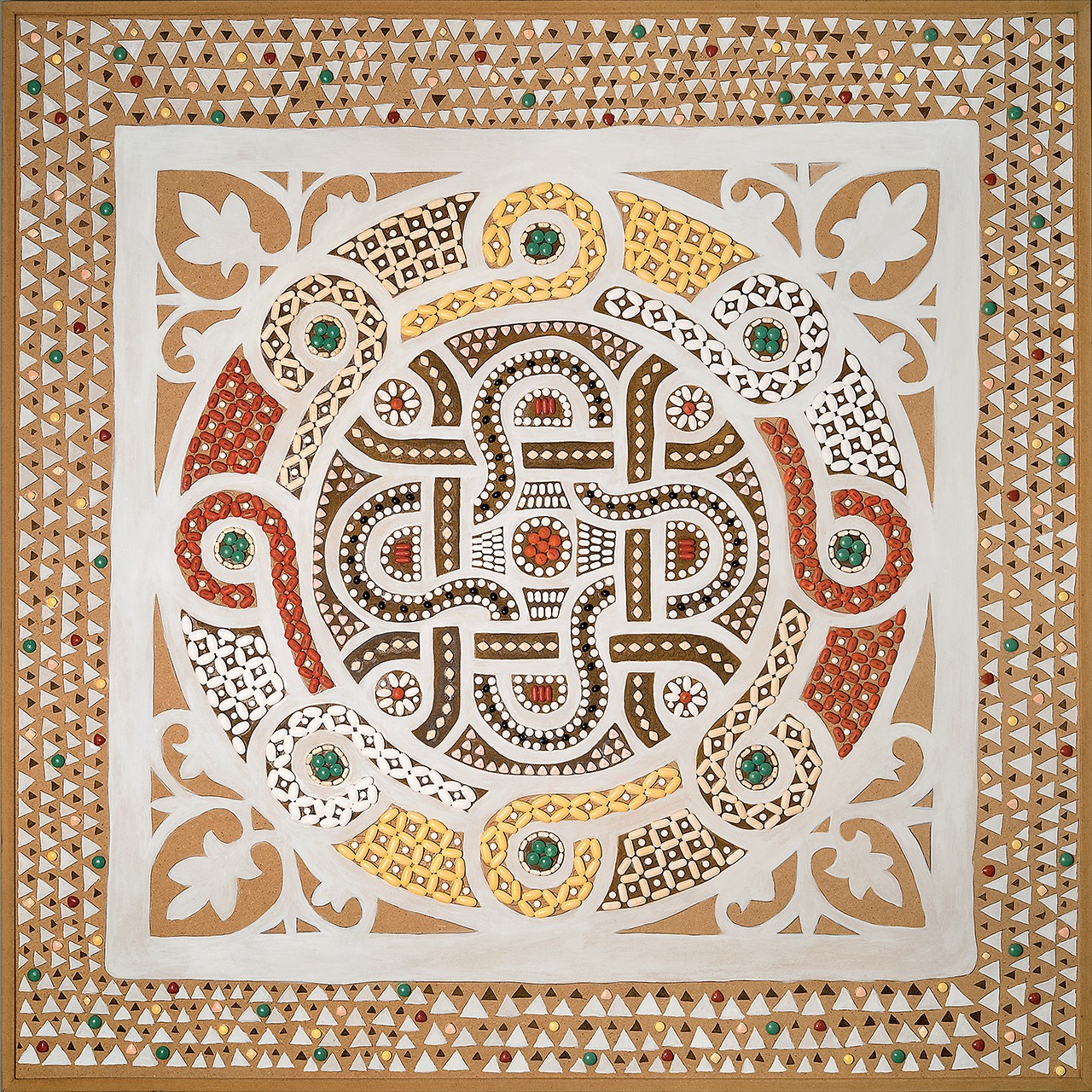 Omphalio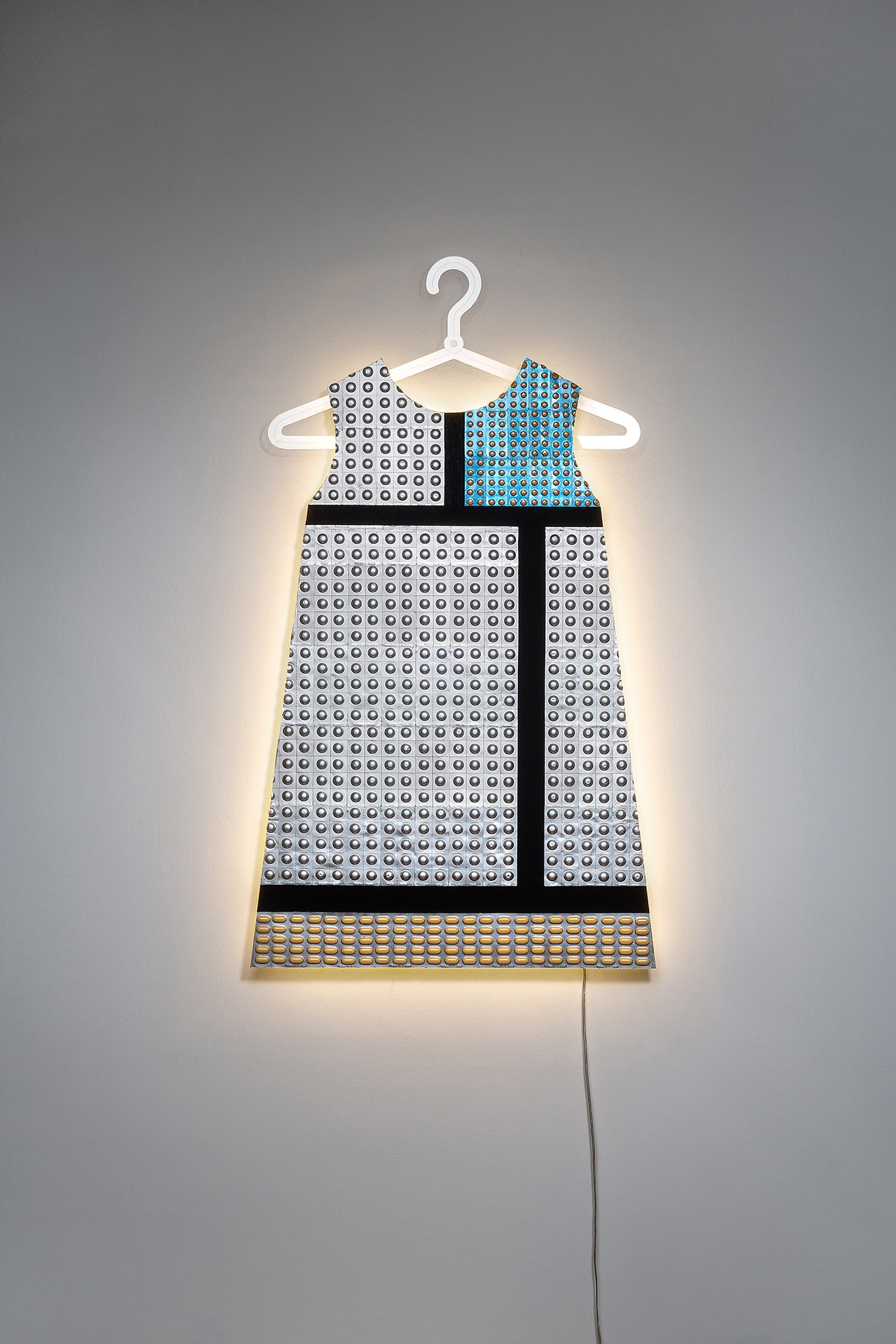 Armour of analgesic dress – hommage to Mondrian and YSL
Where is the Greek contemporary art placed today in relation to the international art scene?
Rregardless of the current crisis, Greek art is in a much better position than it was ten years ago. We have extraordinary contemporary artists whose work is unique and innovative! At the moment, there are some Greek artists who have achieved an international career and regularly exhibit and sell their work abroad. In the past only artists of the diaspora achieved an international career.
The fact that some Greek galleries are maintaining constant participation in art fairs and promote their artists in several foreign events and museums strengthened the position of these artists on the international art scene and gave recognition to the galleries. The establishment of international collaborations creates even more favorable conditions.
Great Greek collectors, who are many for such a small country, regularly organise prestigious exhibitions in Greece in collaboration with foreign curators and museums, as well as at the biggest museums of the world. They also participate in committees and fund numerous important projects in museums around the world.
The Thessaloniki and Athens Biennales build up and reinforce this dialogue. Furthermore, individual initiatives of artists and curators who collaborate with galleries abroad or compete for international prizes play a decisive role.
Last but not least, the fact that Greece attracts more and more influential people of the art world and foreign gallerieshelp the Greek art scene to become more open and active.
There is still a lot to be done, especially when one crisis leads to another and developments are too slow. But I remain an optimist.
Your favorite museum and the exhibition that you adored.
One of my favourite museums that I used to visit frequently before the pandemic is the Royal Academy of Arts in the centre of London. It is a 250-year-old museum, run by artists and architects-academics and housed in a magnificent historical building, Burlington House. Its architectural style (Palladian) is very impressive with huge exhibition halls and clearly interferes with the artworks on display.
What would be better to enjoy in this venue than the retrospective exhibition of Sir Antony Gormley (a Royal Academician himself), an artist who explores the relation of the human body to space. I visited his exhibition in October 2019 and I was in awe from start to finish. The exhibition was starting unexpectedly with a tiny baby/sculpture in fetal position placed on the ground like it was abandoned in the courtyard of the museum … and was finishing with sculptures of body parts pieced together again in fetal position evoking the end of life next to a hall filled with water from the Atlantic Ocean. One huge hall after the other was full of astonishing minimalist installations in unexpected places: a cloud of metallic batons hanging from the ceiling, open or dark metallic labyrinths where one is confronted with one's self and fears, standing human metallic figures (replicas of the artist himself) in every possible place… It was an exhibition from which one left with a sense of completeness, feeling small and big simultaneously, realizing that human abilities and inspiration know no limits.
Which are your next steps?
For the time being I participate in a very interesting online exhibition at the The City University of New York called "The Right to Silence?". Curated by Dr Sozita Goudouna, the exhibition is taking place within the context of Greece in USA, a new platform supported by the Greek Ministry of Culture. It will last until summer in different cultural places and through various events. Online exhibitions are a new reality. They are worth a virtual visit to live the experience.
This summer I will participate in the social project and art exhibition "Art on Boards; The Skate Project" that is co-organized by Zoumboulakis Galleries along with The Skateroom for the first time in Greece. This is the Greek edition of the very successful social project that collaborates with high profile representatives of the contemporary art globally, merging the philosophy of skateboarding with art, and the support of the endangered youth around the world.
Once life goes back to normal I believe that a series of canceled exhibitions due to the pandemic will take place, like a group exhibition on the subject of cancer in Switzerland, another one entitled "Krypton" in Athens, the creation of mysculpture about recycling etc. I also believe that I will manage to set a realistic timetable for my next solo exhibition which I would like to take place in Athens.
What we are going through in the last year prevents us from making accurate plans and encourages us to become inventive and flexible. Never before has our generation experienced a crisis of this magnitude or has connected its destiny with the medicines and the vaccines that will change the course of history!
Photos: Christos Filippousis
source: glow.gr