01.10.2023
GALA magazine-Proto Thema
Pill ART
The multimedia artist who has won everyone over creates artworks from pills and their packages, transmitting extremely relevant messages about the cure of body and soul.
INTERVIEW BY MARIA LEMONIA
PHOTOGRAPHY BY NIKOLAS KOMINIS
We met during this year's Art Athina. I was just one of many who were examining her work with great interest at the booth of the gallery showing her works: dresses full of symbolism made of blisters with pills forming the hemline. Her work is about the relation between human beings and the healing of body and soul. "I am fascinated by the power of medicines and their dual nature, acting as both remedy and poison. My decision to combine different kind of pills – painkillers, antibiotics, antidepressants – lays emphasis on their content and effects. A pill can be cure, lifesaver or poison", she tells me at the beginning of our conversation.
Peggy Kliafa is inspired by every single thing connected with the treatment of body and soul. She creates impressive compositions of metallic walls, dresses, stained glass windows, chandeliers, mosaics etc. A sculpture in the shape of a man made of effervescent tablets is dissolving in water. An ordinary pharmacy cross transforms into a puzzling work of art showing the moving message "Change, change yourself, change mood, food, habits, thoughts, people, expectations". I am wondering what inspired her. "We cannot help but think positively about medicines. For instance, antibiotics' discovery changed the course of history.  On the other hand, the overconsumption of pharmaceuticals, the cost of staying healthy, as well as the counterbalance to daily life –for example, there are people who have unhealthy eating habits, they nevertheless take cholesterol lowering medicines- are all crucial matters in my work. "Stay safe", the most popular moto of the pandemic, was absolutely right. But it was accompanied by social isolation, overuse of face masks, hand sanitizers, self-tests etc. involving a high financial and environmental cost", she explains.
In an era when medicines are either deified or demonized, the prominent artist helps us confront reality. "Used packages are transformed into impressive, elaborate compositions, thanks to the decisive intervention of artificial, pure and warm light, which passes through their transparent texture. The compositions define holy, transcendental spaces, where one can be isolated, connect to the remotest sides of oneself, and communicate with the divine", in the words of the curators of the 6th Biennale of Contemporary Art in Thessaloniki where Peggy Kliafa presented her installation "Imagined Homes". How did it all begin? "My first artwork, the "Pill Portrait", originated from a pills' advertisement in a magazine. It brought out dilemmas like: should medicines be advertised? Many pill portraits followed, until I started experimenting with pills' blisters. The transparent holes created by the absence of pills reminded me of the European Cathedrals' stained glass windows and served as the point of departure of a series connecting medicines with religion, a relationship that transcends time and space. The aluminium foil that covers the back side of blisters became the main material of another series representing the beautiful shapes that bacteria and microorganisms take as we observe them through the microscope".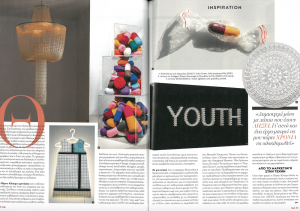 FROM MARKETING TO ART
Peggy Kliafa's childhood dream was to be a civil engineer like her father, whom she lost when she was 6 years old. She was keen on painting from a young age and her teachers usually described her as "good with her hands". Nevertheless, she studied Business Administration and Marketing at the Athens University of Economics and Business. Once her children were a little older, she went back to her passion, painting.
She was easily accepted to the Athens School of Fine Arts in the Department of Painting. "It is never late to pursue one's dream", she points out. Her work gained immediate recognition. She participated in various group exhibitions and Art Fairs in Greece and abroad. Her artworks have been acquired by public collections and museums in Greece, as well as private collections in Greece and abroad.
"Beyond their clear and hidden meanings, medicines are also aesthetically pleasing. In my eyes, their colours, shapes and textures are a source of inspiration. Medicines have a rich history and they don't lack in corporeality, polychromy, abundance of shapes and sizes. Their packaging is equally inspiring for me. I use medicines in the same way that another artist would use pigments, clay or any other traditional artistic medium. In my mosaics, pills become tiles and add colour, in my chandeliers, capsules become small transparent crystals, in my stained-glass panels, blisters transform into perforated glasses penetrated by a mystic light and in my abstract metal artworks, textured elements play with light and shadows. It's a fascinating world full of possibilities", she explains.
She creates dresses out of medicines which are mostly consumed by women, like painkillers for migraines – "most of the times they trouble us" – as well as weight-loss medications. However, she makes use of every single pharmaceutical product that could possibly inspire her. "I work only with expired and recalled pills. I find it unacceptable to use much needed pills. That's why I never get them from the pharmacy but from friends, hence the slow pace with which I usually work".
Peggy Kliafa is actually working on her upcoming solo show at Zoumboulakis Galleries. She is fully aware of the fact that: "Medication, love, religion are neither good nor bad by themselves. What makes them one or the other is the way they are used and expressed", she tells me as we are approaching the end of our conversation. "Medicines have done a lot of good to human life, changing it for the better. Earth's population would be much smaller, were it not for the discovery of antibiotics. On the other hand, excessive use can lead to the other extreme, that is, for the human body to be incapable of a fight. If there is abuse purely for psychological reasons, that's bad. Yet, there are people who wake up every morning and go to work thanks to drugs. It is a refuge, just like religion".