24.04.2022
AXIA NEWSPAPER, axianews
The medicine of art!
Peggy Kliafa speaks to "axianews" about her work, her dreams and her future plans
Interview to Zeta Tzioti
Peggy Kliafa is one of the contemporary artists who has the ability to use any material and medium in order to express visually the idea, the opinion and her concerns. Original work, contemporary, with minimalistic and op art elements, she moves according to the conceptual frame. As an Athens School of Fine Arts graduate, as well as the Athens University of Economics & Business (ASOEE), it is obvious that she emphasizes on research and verification of the concept in her projects. Having worked and analyzed every possible aspect of them, she presents artworks with technical thoroughness that provokes the viewers' admiration.
A few years ago…from the Business field…to the School of Fine Arts. How did you come up with this inner quest and made such an important decision for your life?
Having studied and then worked in two completely different areas like the ones you mentioned, I have realized the difference between doing something with passion or just with consistency.
Back then, the Athens University of Economics and Business was a reasonable choice that would give me a variety of possibilities in the business sector. It is an exceptional first degree indeed. I left my secret aptitude for art and architecture behind and I did not prepare for and pass the School of Fine Arts exams until many years later. The difference was tremendous right from the start of my studies. I remember how eagerly I was reading about art, visiting exhibitions, sketching and creating works.
The result of my professional involvement in art is a combination of the two, though. Because, besides inspiration and maybe talent, art calls for planning, discipline, specific knowledge and, of course, a lot of work.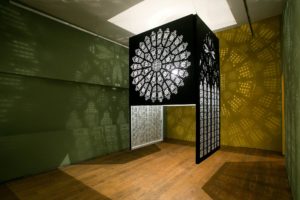 Peggy Kliafa, Installation, 6th Thessaloniki Biennale
We realize that the themes of your works reflect contemporary social concerns, like the dual-use of medicine etc. Besides the concept of "medicines", what other social concerns inspire you?
Medicines form the «umbrella» of my work and often my main subject, but at the same time, they become a vehicle for dealing with other social problems too.
One cannot possibly have negative thoughts about medicines, since the discovery of certain medicines, like the antibiotics, changed the course of history for the better (series of stained-glass windows). On the other hand, the overconsumption of medicines and the price one has to pay to "stay healthy" are matters that concern me and are captured in my works, like in the photographs entitled "Pill candies", as well as in the installation/sculpture called "Breathing Booth & The Cost of Breathing". The "stay safe" slogan that reigned over the entire world during the pandemic was, of course, the right decision because it saved lives, which was the ultimate aim. But at the same time, it was accompanied by the overconsumption of masks, plastic gloves, antiseptics, self tests and other products, involving a significant economic and environmental cost.
In most of my artworks I use materials closely connected to medicines and their packages that are not biodegradable or should not be discarded. Ι indirectly recycle and upcycle those materials in small scale. I hope that my works spread that message too, amongst others.
The ageism and sizeism torturing the modern man more than ever because of the scientific progress are issues that my works "YOUTH", "Viagra Portrait", "Amour or Slimming Dress" are dealing with. Also, the works "CHANGE", a real pharmacy cross with my own digital text, and "Armour or Flapper Dress and Go On With your Bad Habits", a dress/armour dealing with smoking and COPD, are touching upon medicines as a fast and easy way to cope with various health problems without providing a definite solution, controlling our "bad habits" or changing our way of thinking and living.
Matters such as the perception of religion as medicine and medicine as religion, as well as their ambiguity, the return to the roots as a medicine, the ephemeral nature of life, despite the wide use of medicines, are reflected on many works of mine: the stained-glass windows and the installations composed of them, for example "Remedy or Poison", the mosaics with real pills "Omphalio" and "Pillow" or the "Dissolution" video.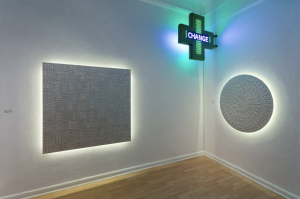 Peggy Kliafa, Armory Series and Pharmacy Cross Change, 2016
Which are your favourite artworks and for what reasons?
One of my favourite works is the sculpture/installation called "Breathing Booth and The Cost of Breathing" that had been exhibited at the National Museum of Contemporary Art in Athens during Documenta 14 in July 2017. It was created in the context of the "Combat Breathing" event curated by Dr. Sozita Goudouna.
It was then a utopian proposal to install "Breathing Booths" (resembling telephone booths) in town centres. My artwork was the realization of such a booth where a person could enter and sit to take a rest and breathe oxygen provided for free from the breathing machine and matching masks. The booth was also equipped with a vending machine/sculpture which distributed plastic masks and inhalers (transparent sculptures) for the treatment of dyspnea and other breathing diseases from which a large part of the world population suffers.
Since the beginning of the pandemic, I am receiving messages about how prophetic this work was. I was also impressed by the decision of the well-known collector Adrian Cheng to install Face Mask Vending Machines to distribute masks for free all around Hong Kong. One cannot help but wonder about the "price" of breath (both literally and metaphorically) witnessing the overconsumption of masks, the failure to recycle them, the absolute need for breathing machines, as well as the testing and consumption of so many medicines over the past two years.
Another one of my favourite artworks is the installation under the title "Imagined Homes" exhibited in the 6th Thessaloniki Biennale of Contemporary Art. It consists of four large stained-glass windows that resemble a cube with inner light. What distinguishes them is that the traditional coloured religious scenes of Gothic stained-glass windows have been replaced by motifs made of pill blisters. Their transparency allows light penetration and reflection of kaleidoscope effects on surrounding walls. Here is an excerpt from the Biennale's catalogue:
"…used packages are transformed into impressive, elaborate compositions, thanks to the decisive intervention of artificial, pure and warm light, which passes through their transparent texture. The compositions define holy, transcendental spaces, where one can be isolated, connect to the remotest sides of oneself, and communicate with the divine…"
Since the pandemic began, we have witnessed historic moments where medicines have been idealized on both a personal and a global level.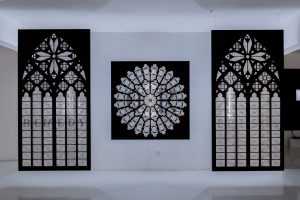 Peggy Kliafa, Remedy or Poison
The visual expression has no limits and accepts no restrictions
Large stained-glass windows, assemblages, paintings, sculptures, videos and wallpapers. You are a true multimedia artist. Tell us about these different media and how they help you develop your artistic style.
From modernism onwards and mostly in contemporary art, artists choose various media in order to express themselves. However, there are a lot of artists who focus exclusively on painting or sculpture and hence improve their art via the same medium. I personally cannot limit myself as far as this is concerned, so I express every idea, opinion, concern via the medium I feel it represents it better.
Furthermore, medicines as subjects and as materials -pills, packages, bottles etc- offer endless ideas and possibilities. To tell you the truth, my first work on that subject was a painting. It was the first "Pill Portrait" that came out of a pills' advertisement in a magazine and brought out thoughts about whether or not medicines should be advertised.
Many pill portraits with baroque style frames followed, as well as watercolours of medicinal plants. Some of these plants became the subject of a wallpaper.
Then I began experimenting with pills blisters, both the aluminium and the transparent ones, which brought to mind the stained-glass windows of churches. They became the starting point of a series of works that connected religion with medicines.
As for the pills blisters from aluminium foil (tiny sculptures themselves), their embossed surface inspired me to create a series of assemblages of geometrical abstraction in two and three dimensions called "Armory". Squares, rhombuses, shields, dresses-armours, pillars, doors, all made of metallic packages, take on a whole new dimension and materiality. The aluminium foil covering the back of these blisters transformed into a series of works exploring the world of bacteria and germs, as well as their fascinating formations through the microscope.
Pills were used from the start as tesserae on a series of mosaics inspired by Greek tradition and religion, whereas empty transparent capsules, which look like crystals from afar, were the raw material for creating chandeliers.
Finally, the effervescent tablets used as bricks were transformed into a sculpture resembling a human figure. Immersed in a tank of water, it dissolves in front of the camera to create a video about the ephemerality and the self-destructive element of human nature. I am not sure sometimes, if I choose the artistic media or the material itself directs me to the notions and the media.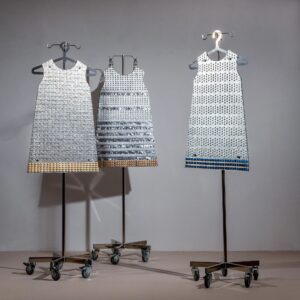 Peggy Kliafa, Dance, 3 Armour-Dresses on IV Poles
Your future plans…
My future plans include a solo exhibition and a series of group exhibitions in the near future. I am excited that art exhibitions are making a strong comeback.
Since March 31, I participate in a very interesting group exhibition at Lola Nikolaou Gallery in Thessaloniki with my work "Armour/Dress – Heartbeat", among outstanding works and artists from Greece and abroad.
The group exhibition "Froth on the Daydream" curated by Chloe Akrithaki at Gallery 7 in Athens will be on view from April 19. The exhibition presents artworks on the subject of flower. It is inspired from the book of Boris Vian, as well as from a group exhibition organized by Chloe's father, Alexis Akrithakis, in 1990 at the same gallery and on the same theme. My installation "Nature is Innocent" will be exhibited there. It consists of a wallpaper and two watercolors representing the "medicinal plants" "Opium" and "Marijuana".
I will also participate in a special exhibition under the title "The Root" curated by Foteini Vergidou. The exhibition will take place from 6 to 15 May at the Amphicar Studio. Right after that, another group exhibition is coming up on June 9 at ALMA Gallery in Athens entitled "Love me Tender – Elvis Presley". Curated by Stefanos Tsitsopoulos, the exhibition will also be held in September at Lola Nikolaou Gallery in Thessaloniki.
On July 9, I will participate in the exhibition "True Blue" with four prominent artists, who also happen to be friends of mine (Ch. Akrithaki, N. Karakostanoglou, M. Lourba and E. Haliori), at Studio 265, owned by Anna Kontoleon, in Paros. The exhibition will be curated by Alexios Papazacharias.
Last but not least, in September, apart from the exhibition at Lola Nikolaou Gallery, I will be happy to participate in "The Fall", a group exhibition in Milan based on the Albert Camus' novel bearing the same name. Sabino Frassà, director of the nonprofit organization Cramum, will be the curator of the exhibition.
We are finally getting back to normality with interesting exhibitions that we can visit in person. Besides, contemporary art is experiential and physical presence offers a different and unique experience to the viewer.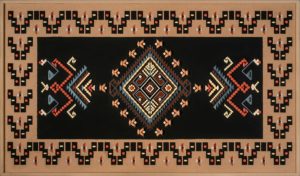 Peggy Kliafa, Pillow I, Mosaic with real pills
Photographs by Christos Filippousis